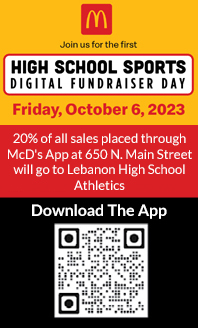 Side Menu Ends, main content for this page begins
Back to Side Menu (includes search)
Micah Faler hired as new Lebanon Head Football Coach
Posted on: December 10, 2021
Lebanon City Schools is proud to announce that Micah Faler has accepted the position of head football coach, pending Board of Education approval at their December meeting.
Thirty four candidates applied for the opportunity to lead the Lebanon football program. An interview committee of 14 community members were involved in the process to select the next leader of the football program. The committee included representatives from Lebanon Warrior Youth Football, Lebanon Athletic Boosters, parents, current and former football coaches, and a slate of current LHS head coaches. The administrative team and committee were impressed with the qualities Coach Faler demonstrated throughout the selection process.
Coach Faler brings a wealth of football experience as a player, coach, and educator with him as the Lebanon Head Football Coach. He was a standout athlete at Worthington Kilbourne High School and he holds both an undergraduate and masters degree from the University of Akron, where he was a scholarship quarterback for the Zips. Coach Faler served as the Head Freshman Football Coach for Mason High School for two years, the Varsity Quarterback Coach and Passing Game Coordinator for three years, and Head 8th Grade Football Coach at Mason Middle School for five years.
"Micah Faler will change lives immediately and directly enhance the culture of Lebanon! He will be a builder of young men in the classroom and on the field. He loves the Lebanon community and will work tirelessly everyday to show that love! I have full confidence that Micah is the best choice to be your next Head Football Coach," said Brian Castner, Head Football Coach at Mason City Schools.
Coach Faler is not new to Lebanon athletics - he has served as the Varsity Quarterback Coach and Passing Game Coordinator since 2019 as well as the 8th grade Head Football Coach for Lebanon Junior High this past fall. He has a strong connection to Lebanon's youth football program and previously served as a coach within that program, in addition to his high school coaching responsibilities.
"Coach Faler's ability to connect with our kids and community at every level, his passion and love for his players and this town, and his alignment with our vision and values are among the many reasons he has earned the opportunity to lead Lebanon football," said Athletic Director Keith Pantling. "His involvement in this capacity will positively impact the culture surrounding our entire department."
Micah, 41, lives in Lebanon with his wife Bridget and two children who attend Lebanon Schools - Luke, 8th grade, and Laney, 6th grade. Since 2005, he has taught social studies at Mason High School and he also serves as the social studies department chair.
Coach Faler is excited for the opportunity to lead the program. "I am very grateful and honored to be the next head coach of the Lebanon Warriors Football Program. Lebanon is a special place, with a community that supports each other and supports their student athletes," he said. "I am excited to lead this program and these players to their highest level of potential and to achieve excellence, integrity, and great character on and off the field. Through the relentless desire to compete and a passion and love for the game of football, we will strive to give back to the Lebanon community that has such a rich football history and tradition!"
"I am excited to land a quality educator and mentor to lead our football program. Coach Faler has demonstrated his commitment to developing relationships with players, staff, and the community as a coach within our program the past two seasons and his program will further invest in those relationships. I believe his vision for the future of our football program embodies our mission of Building Community and I look forward to him working with our student athletes," said Superintendent Isaac Seevers.
A team meeting will be held Monday after school (December 13) with returning student-athletes. A public meet and greet will be scheduled for later in December. Coach Faler will be introduced at the Lebanon High School Boys Varsity Basketball game on Friday, December 17.
Quotes from Members of the Interview Committee:
"Micah Faler checked all the right boxes that represent the qualities we were looking for as our head football coach at Lebanon. He has an awareness for the high expectations of the school and community. He is very anxious to start developing a culture he believes in; Faith, Family, Academics, and Football. He is a family man, a humble person and a natural leader with a glue-type personality and eager to coach football at Lebanon. I am supportive of the decision to hire Coach Faler as the leader of the Lebanon Football Program."
~Jim VanDeGrift, Former Lebanon Head Coach and Hall of Fame Member
"As an LHS Alum, Booster Director and LJHS Football Coach, I am extremely excited about the selection of Head Coach MIcah Faler as LHS's next Varsity Football Coach. The Faler family have always been great supporters of our schools. Micah's extensive experience and engagement with Warrior Football players at ALL levels is top notch. This is a true #OnwardLebanon move by the district!"
~Matt Woehrmyer, 1998 LHS graduate, parent, Booster Treasurer, LJHS Football Coach, LWYFL Board Member