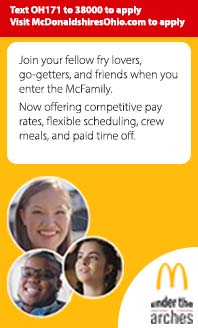 Side Menu Ends, main content for this page begins
Back to Side Menu (includes search)
WARRIOR WELCOME: Robert Reynolds, Principal, Lebanon High School
Posted on: March 23, 2022
Join us in welcoming Robert Reynolds as the new Principal of Lebanon High School!
Mr. Reynolds comes to Lebanon from St. Bernard-Elmwood Place School District, where he currently serves as the Junior/Senior High School Principal, a role he has held for the last five years. Previously he served in the roles of Career Center Director at Colerain High School, Principal of Northwest High School, and Assistant Principal at Talawanda and Fairfield High Schools. Prior to roles in administration, he was a high school English teacher.
Mr. Reynolds brings a wealth of skills and perspectives to Lebanon High School, said Isaac Seevers, Superintendent. "In his previous roles he has demonstrated an ability to build connections and create community with staff and students. I am excited to welcome him to the district and to see how he builds on the strong foundation in place at Lebanon High School."
Mr. Reynolds earned both his Bachelor's and Master's degrees in English, and further training in Secondary Education and Administration from Xavier University. His family includes his wife of 32 years, Maureen, and their three grown children: Emily, Patrick, and Christina. Maureen serves as the Point-of-Care Coordinator at Christ Hospital in Cincinnati.
"It seems like Lebanon has always been a part of my life," Mr. Reynolds said. "Growing up in Cincinnati, I remember my dad driving to South Lebanon every day to work at Cincinnati Milacron. When my parents had a special occasion to celebrate, we would always go to the Golden Lamb. When my wife and I had our own kids, going to the Countryside Y was always a part of every swim season, and attending Applefest each fall was an annual tradition," he said. "In all of these experiences, I have been impressed by the pride people feel in their families, their traditions, and their community. I can tell that Lebanon is a unique and special place of which I am honored to join."
To this new role he brings a strong sense of his own values and what he believes an excellent high school should be. "Part of those values are to know how to take the time to learn about a school, to recognize the great things that are happening there, and to build upon them," he said. "I also bring the conviction that the purpose of high school is not just to make sure every student gets a diploma after four years. The purpose of high school is to prepare students for life after graduation, not only those going to college or the armed forces, but also those who are going directly into the workforce."
Casey Wood will finish out the school year in the role of Interim High School Principal and will work with Mr. Reynolds as he transitions to the role of Principal this summer.