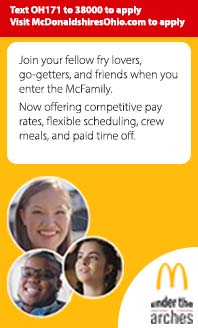 Side Menu Ends, main content for this page begins
Back to Side Menu (includes search)
Email Update- December 2, 2017
Posted on: December 2, 2017
Some important information from LJHS!
Washington DC Trip Dates-
Due to circumstance beyond our control, the dates of the Washington DC trip for 8th grades have changed. Students will now travel to Washington DC March 7th through March 10th. Students received a letter on Thursday during homeroom advising them of the change in plans. If you need to cancel your trip due to a conflict with these days, please call the travel company at
937-439-0032
. If your child is still able to attend the trip, please plan to attend one of these mandatory parent meetings:
Thursday, December 14th- 5:30pm at the Old LJHS Cafeteria (Current Berry Building)
Saturday, December 16th- 8:00am at the Old LJHS Cafeteria (Current Berry Building)
PTO Survey- The LJHS PTO is looking for feedback on ways to spend money earned through the Warrior Walk. This fundraiser was very successful and the PTO would like your input into making the best use of the funds that are available. Click Here for Survey
MAP Testing- MAP testing in Reading and Math will be next week (Dec. 4-8). LJHS values the data received from our periodic MAP testing. Teachers use the data to support instructional planning and the data is also used as a factor in placement for accelerated classes. Please encourage your student do give their best effort on these assessments.
Future Communications and ProgressBook
- In an effort to get info to you more efficiently, we need you to add your email to your ProgressBook account. Examples of communications you might receive via email will be: school newsletters, school events/announcements, etc.
Please follow these steps to make sure you receive these updates:

Access ProgressBook at lebanonschools.org and click on the ProgressBook icon.
Login to your ProgressBook account. (Note: If you do not have a ProgressBook account, please contact your child's school to obtain the Parent Access key.)
On the left-hand side, click Student Contacts.
To enter your email address, click Edit:
In the "Email" section, enter your email and choose Primary as the Type. Only 1 email address can be used. Click Save.

Note: Changes to the student's home address and phone number must be done in person at your student's school building. DO NOT update the home address on the primary contact in ProgressBook as this will generate an error.

Forgot your ProgressBook login information? Click on "Forgot your user name or password?" on the website/app. A link to ProgressBook can be found at lebanonschools.org.

Need to set up a ProgressBook account? If you have never set up a ProgressBook account, a Parent Registration Key and directions can be obtained from your Building Secretary.
Holiday Break-
December 21, 2017- January 2, 2018 School will resume on January 3, 2018.
Holiday Office Schedule-
The junior high office will be closed the week of December 25th. The office will re-open on Tuesday, January 2nd.