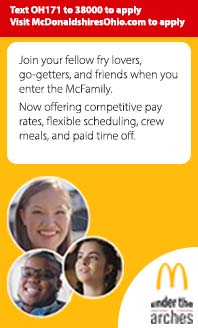 Side Menu Ends, main content for this page begins
Back to Side Menu (includes search)
Email Update- January 8, 2018
Posted on: January 8, 2018
Parents-
We hope everyone has had a great start to the new year! Below is some important information from LJHS.
Junior High Events Cancelled Today (1/8/18)- All junior high games and practices are cancelled for today. Today's maroon boys game against Wayne has been rescheduled for Thursday, Feb. 1 in the main gym at LJHS. Game times are 5:30 and 6:45 pm.
2nd Quarter Grades NOT Posted-

Second quarter grades are not posted in ProgressBook. We will let you know when the grades are available.
Transportation Update for 2018-19
There are some safety changes coming to bus transportation in the Lebanon City School District. For many of our bus riders, this will have no impact. However, for others, this will change some of the transportation arrangements that are requested in the future.

Beginning January 1, 2018, all new transportation requests for school pick-up will be required to use the same address for all school days (does not have to match home delivery address).

Beginning on January 1, 2018 all new transportation requests for home delivery will be required to use the same address for all school days (does not have to match school pick-up address).

Example 1: Pick up at home in morning; drop off at daycare in afternoon. (M-F)
Example 2: Pick up at daycare in morning; drop off at grandparents in
afternoon. (M-F)

These changes are consistent with Ohio school law and made necessary by the growing number of parents requesting modified busing schedules throughout the week. We simply cannot track all of the requests and keep our students safe at the same time. For example, several modified
schedules include requests such as:

Home on Monday/Wednesday; Babysitter on Tuesday/Thursday; Grandparents on Friday

As you can imagine, multiplying this by 300 or more such requests creates too much potential for mistakes leading to children getting on wrong buses or being dropped off at the wrong location. Those are occurrences that happen too frequently for our transportation department and our parents. Sometimes it is an issue of the driver, but often, it is an issue with the student or the parent. We can no longer take the risk of a child being injured or abducted by this practice.

Consistent pick-up and delivery will create a much safer environment for our students. We will maintain all current transportation arrangements through this school year. However, beginning the
2018-2019 school year, this policy will be in place for all students.

One change not mentioned in the communication sent to parents is that we will make an exception for parents needing an alternate drop-off in the afternoon on Wednesdays. This is due to the early release schedule currently in place for Lebanon City Schools.

If you have any questions, please contact your child's school or the transportation department at 934-5838.
PTO Meeting Rescheduled
- The next LJHS PTO Meeting will be Monday, January 22nd, at 4:30pm in the junior high office conference room. All are welcome to attend.
Snow Day Text Message Update- If you are having trouble updating your ProgressBook information to receive texts for snow days or delays, please contact the junior high office for assistance.