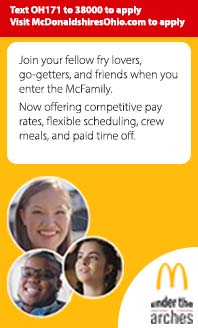 Side Menu Ends, main content for this page begins
Back to Side Menu (includes search)
Update from LJHS 3/27/2020
Posted on: March 27, 2020
Good afternoon,
Here are a few updates and pieces of information from LJHS! I hope everyone is staying safe!
Work from Home Days to Begin Monday, March 30- Beginning Monday, March 30th, students will have required assignments to complete for their classes. Assignment grids will be posted on the school website and emailed to you Monday morning. Most of the required work can be found in your students google classroom. For more information about Lebanon City Schools Distance Learning, please reference this video sent by Director of Curriculum and Instruction, Mark Graler.

Using a Shared Computer at Home

- When students are working on a shared computer at home, they will need to be sure that they are logged in to Chrome with their school district account. If they are sharing a chrome browser with members of their family, it often switches to a different account without them knowing and then they will be unable to access or add content to Google Classroom because their browser will default to whoever logged into the browser first. Here is a video that shows parents how to help their student login at home.
From the Warren County Health Department- Dr. Swope, our medical director, has suspended all immunization clinic until at least April 10th He will reevaluate the situation at that time. This is due to the current COVID-19 situation.

Food Pick Up Schedule-

Beginning next week, we will adhere to the following schedule until we return to school:

Tuesdays 4-6 pm at Berry Intermediate (sponsored by Lebanon Schools)

Fridays 11 am - 1 pm at Countryside YMCA (sponsored by Joshua's Place)

FREE Online Reading Resources- Mrs. Ensman, our amazing Media Specialist, has put together a list of FREE Online Reading Resources for students of all ages. The attached document has links to several sites you may find beneficial. We strongly encourage you to have your student read every day! Click Here for the Resources

Recommended Books for Junior High Students- Mrs. Ensman has also put together a list of recommended books for junior high students. Take a few minutes to share the list with your student and encourage them to read one of the recommended titles. You can also use this as an opportunity to learn about what they may have already read in the past. Click Here for List.
Brian Dalton, Principal of LJHS