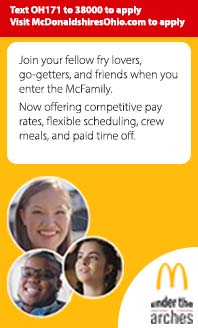 Side Menu Ends, main content for this page begins
Back to Side Menu (includes search)
Welcome To LJHS Letter 2020-2021
Posted on: August 3, 2020
Dear Parents/Guardians:
As we make plans for the opening of the 2020-21 school year, I wanted to take some time to welcome you to Lebanon Junior High School and share some important information with you. We are excited to have your student returning to school in a couple of weeks! There will be many challenges this year but challenges often present us with new opportunities and new ways of looking at things. We will embrace these challenges and look for ways to make LJHS a safe place for all students. As we approach our first day of school, there are several important items to share with you, including information about schedules, first day of school schedule for 7th and 8th graders, transportation, TDAP immunization and much more!
7th Grade and New Student Optional Tour- Friday, August 14, 2020
Seventh graders and new students will have an optional tour on Friday, August 14, 2020. Tours will be scheduled between 7:15am and 2:15 pm using the SignUp Genius link in this email and posted on our school website and Facebook page. To make the tours safe and successful, we will need to follow these guidelines:
You must schedule a time using this SignUp Genius link.

All tours are limited to one student and one adult. (Students do not have to be accompanied by an adult but they must sign up)

All tours will require masks.

To allow for proper cleaning, please arrive no more than 5 minutes prior to your scheduled tour time.

Upon arrival, check in with the staff volunteer and report to the cafeteria where you will be seated by staff.

Tours will be broken into small groups and led by a staff member.

All guests are asked to park in the lot between the old junior high school and the new building. Please do not park in the bus lot as all tours will end in the parking lot near the water tower.
First Day of School for 7th and 8th Graders- Monday, August 17, 2020
This is the first official day of school for students in both grade levels. Students will report to ETEH (Extra Time, Extra Help) upon arrival. The primary focus of this day will be to introduce students to their teachers and to provide an orientation to the building and the procedures we will use to keep school safe for the 2020-21 school year.
Updated Contact Information-
It is extremely important this year that all of your contact information, including emergency contacts for students, is up to date. Please contact the school office immediately (513-934-5300) if you have had a change of phone number or if you need to update the emergency contact information for your student. Email, phone, and text updates will be used throughout the year to provide information. You can update personal information including phone numbers and email addresses through ProgressBook.
District Reopening Plans-
A link to the districts reopening plans can be found on the district website by clicking this link. The plan includes information about students attending in person and those who are working online. It also has links to several other resources including:

-Essential Questions for Review: District staff considered these questions as Reopening Plans were created
-Warren County Schools Common Agreements for Reopening Schools
-Warren County Health District
-LCSD Policy on Face Coverings
Students Should Practice Wearing the Face Covering-
Students should begin to practice wearing their face coverings for extended periods of time. This will help make the transition back to school easier for them.
Make A Health Assessment Part Of The Daily Routine-
The normal morning routine typically includes a shower, getting dressed and eating breakfast. It is important that every morning, students be assessed to make sure they are not showing symptoms of Covid prior to departing for school. Students should stay home if they answer yes to any of the questions below.
_____ Do you have a temperature above 100°F?
_____ Do you have a headache?
_____ Do you have a sore throat?
_____ Do you have a persistent cough?
_____ Do you have difficulty breathing?
_____ Do you have a loss of smell or taste?
_____ Do you have digestive issues?
_____ Are you waiting for a Covid-19 test result?
_____ Have you been recently exposed to someone who has tested positive for Covid-19?
Symptoms explained as "allergies" or "asthma" need to be accompanied with a doctor's note if the student is to attend school. When in doubt, please consider the health and safety of the other students and staff in the building and keep your student home. Contact the school office if your student will be absent. (513) 934-5300
2020-21 School Day
The student school day will begin at 7:10am when students report to ETEH. The doors will open to the building at 6:50am. The school day will end at 2:05pm.
Student Schedules-
Student schedules will be emailed home to parent email addresses during the week of August 10th. Students will also be able to access schedules through progressbook the week of August 10th. Hard copies of schedules will be available for students on the first day of school.
Students Riding Buses-
Students riding the bus to school will report directly to their ETEH class upon arrival to school. They should not report to their locker or roam the hallways. How to access your student's transportation information AFTER August 4, 2020 (7th and 8th Grade Students)-
Visit www.lebanonschools.org/departments/transportation-12/bus-routes-50

Use your student's ID number (lunch code) as the user name and birthdate (Six digits-MMDDYY) as the password.

When logging in for the first time, you will be prompted to reset your password.

Click on Work with Students.

Click on View My Students.

Your student's name will appear, click on it to view your student's bus information

If you have any further questions, you can email the transportation department at schoolbus@lebanonschools.org
Student Drop-off/Pick Up-
If you plan to drop students off at school in the morning and/or pick up in the afternoon, please see the linked map showing the car entrance, traffic flow, drop off/pick up location, and exit. Drop-off in the morning will take place at the front of the junior high building and pick-up will take place by the softball and baseball fields in the football stadium parking lot. The lot behind the Junior High is reserved for buses. Due to safety concerns, we ask that you please refrain from dropping students off on Miller Road. It is not safe for students to get out of the car on this busy street. Students should not arrive at school prior to 6:50. Upon arrival, students should report immediately to their ETEH classroom. Students should not report to locker or roam hallways. The building is unlocked at 6:50am so students arriving before this will have to wait outside. Students should follow physical distancing rules when waiting outside for the building to open.
Clinic News –Immunization Reminder (7th graders only)-
We are reminding you of the Tdap and Meningococcal (MCV4) immunizations that are required for students to enter 7th grade. If your child has not received these immunizations, please make an appointment to obtain these as soon as possible. We will need documentation of this from the Physician's Office or Immunization Clinic where they received it. Please send documentation to the LJHS office. If you have any questions about this, please contact our nurse at the Junior High School, 934-5309. If your child cannot receive these vaccinations due to medical reasons, religious convictions or reasons of conscience, please contact the school nurse. Per Ohio Revised Code and school board policy, a student may be exempted from immunization if a parent or guardian objects for good cause, including religious conviction, or if there is a medical condition that prohibits immunization. Students who fail to submit proof of immunizations within 14 days of the start of school will be excluded from school per Ohio Revised Code.. Thank you for your cooperation in this matter.
Locker Use-
Students will be issued lockers again this year. In an attempt to maximize physical distancing, students will be permitted to go to their lockers in small groups during ETEH at the beginning of the day, before and after lunch, and again at the end of the day during ETEH.
Technology-
LJHS adopted a 1-to-1 learning environment for students three years ago. Each morning, students pick up their pre-assigned chromebook and carry it with them throughout the day. At the end of the day, students return the chromebook to a cart located in their ETEH classroom to charge overnight (chromebooks are not taken home by students). This provides students access to the vast amount of resources available online and allows teachers to use various applications to enhance instruction and learning. Students are responsible for the condition of the devices and may be fined for lost or damaged equipment.
Students may carry cell phones with them during the day and are permitted to use them before school, after school, during class changes, and during lunch provided they follow all school rules and expectations with regard to their use. Cell phones are not permitted during class or study hall unless students have permission from their teacher and they are being used for educational purposes.
MAP Testing Windows-
LJHS values the data received from our periodic MAP testing. The MAP testing windows for the 2020-21 school year are:
Fall- 8/31-9/18 Winter- 1/11-1/29 Spring- 5/3-5/14
Report Cards Available Online-
Again this year, the Lebanon City School District is making report cards available online through ProgressBook. Printed copies of report cards will not be sent or mailed home. Your child's grades are always available by logging into your parent ProgressBook account. Information regarding parent and student account access will be sent home at the beginning of the school year. If you need assistance accessing grades, please contact our building secretary.
Communication-
The staff (teachers and administration) of LJHS use a variety of methods to communicate information to parents. This year we invite you to connect with our school by following us on one of our social media sites. Individual teachers may have their own account, however, I have listed the primary sites you may want to follow as a junior high parent or student.
In addition to our social media sites, we will periodically use email and the one-call text or phone system to communicate important information to parents. Please make sure you log onto your ProgressBook account to update your cell phone and text notification numbers.
We are looking forward to a great 20-21 school year and we look forward to seeing your student in August. Go Warriors!
Sincerely,

Brian Dalton
Principal