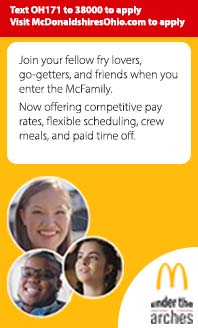 Side Menu Ends, main content for this page begins
Back to Side Menu (includes search)
Reminder Email To Parents
Posted on: August 15, 2020
Email sent to LJHS Parents on 8.16.2020
Good Morning LJHS Parents!
As we get ready to open for the 2020-21 school year, we wanted to provide you with a few important reminders to start the year.
Make A Health Assessment Part Of The Daily Routine-
The normal morning routine typically includes a shower, getting dressed and eating breakfast. It is important that every morning, students be assessed to make sure they are not showing symptoms of Covid prior to departing for school. Students should stay home if they answer yes to any of the questions below.
_____ Do you have a temperature above 100°F?
_____ Do you have a headache?
_____ Do you have a sore throat?
_____ Do you have a persistent cough?
_____ Do you have difficulty breathing?
_____ Do you have a loss of smell or taste?
_____ Do you have digestive issues?
_____ Are you waiting for a Covid-19 test result?
_____ Have you been recently exposed to someone who has tested positive for Covid-19?
Symptoms explained as "allergies" or "asthma" need to be accompanied with a doctor's note if the student is to attend school. When in doubt, please consider the health and safety of the other students and staff in the building and keep your student home. Contact the school office if your student will be absent. (513) 934-5300
Face Coverings-
Per the order of the Governor and the Lebanon City School District Board adopted policy, all students must wear a face covering while at school. Please make sure your student has a face covering. Appropriate face coverings include face masks and gaiters. The face covering must be worn appropriately- cover the nose and mouth. Face shields may be worn IN ADDITION to face masks or gaiters. Opportunities for students to remove the face covering will be available at various throughout the day.
Water Bottles-
Water fountains are currently unavailable for student use. We have installed water bottle refill stations so students should plan to bring a water bottle each day to make sure they stay hydrated. Students can bring reusable water bottles or single use water bottles.
Buses-
A reminder that students must wear a face covering while on the bus. Students should have the face covering on prior to boarding the bus.
Supply List-
Here is a link to the student supply list for 2020-2021.
School Hours-
LJHS doors open at 6:50am. School begins at 7:10am and ends at 2:05pm. Please do not drop your child off at school prior to 6:50am.
Immunization Reminder- Attention all 7th Grade Parents
Ohio State Law requires that all students be vaccinated with the Meningitis (MCV4) vaccine and Tdap vaccine prior to entry into 7th grade. All 12th grade students are required to obtain the Meningitis (MCV4) vaccination as well. Proof of immunization from the Physician's Office or Immunization Clinic where the student received the vaccine or Immunization Exemption must be provided by September 3, 2020, or your child will be excluded from school on September 4, 2020, until such record is provided. If your child cannot receive this vaccination due to medical reasons, religious convictions or reasons of conscience, please contact the school nurse to obtain an immunization exemption. These vaccinations are available through your physician's office, the Warren County Health Department, and various clinics and pharmacies in the community.

Updated Contact Information-
It is extremely important this year that all of your contact information, including emergency contacts for students, is up to date. Please contact the school office immediately (513-934-5300) if you have had a change of phone number or if you need to update the emergency contact information for your student. Email, phone, and text updates will be used throughout the year to provide information. You can update personal information including phone numbers and email addresses through ProgressBook.
Student Drop-off/Pick Up-
If you plan to drop students off at school in the morning and/or pick up in the afternoon, please see the linked map showing the car entrance, traffic flow, drop off/pick up location, and exit. Drop-off in the morning will take place at the front of the junior high building and pick-up will take place by the softball and baseball fields in the football stadium parking lot. The lot behind the Junior High is reserved for buses. Due to safety concerns, we ask that you please refrain from dropping students off on Miller Road. It is not safe for students to get out of the car on this busy street. Students should not arrive at school prior to 6:50. Upon arrival, students should report immediately to their ETEH classroom. Students should not report to locker or roam hallways. The building is unlocked at 6:50am so students arriving before this will have to wait outside. Students should follow physical distancing rules when waiting outside for the building to open.
Label Items-
Please take a few minutes to label an personal items students will be bringing to school. Lunch boxes, pencil pouches, water bottles, headphones, hoodies, face coverings, etc should all be labeled to help us get them back to your students should they be lost.