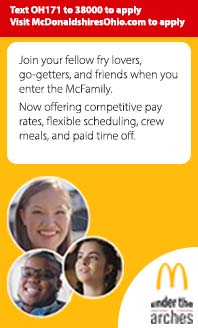 LHS Booster Groups
AFJROTC Boosters - The Air Force Junior ROTC Booster parent organization is a highly valuable aspect of our JROTC program. Our parents/guardians and friends of the Cadet Corps support us by doing some incredible things for our cadets. Join our Facebook group: https://www.facebook.com/groups/LHSAFJROTC/. You can also contact MSgt. Eads for more info.
After Prom Committee - This committee of parent volunteers educates our students against using drugs and alcohol during prom season and provides them with a safe, supervised event that reinforces the fact that you can have fun without being under the influence of drugs or alcohol. You can stay up to date by following us on Facebook: LHS After Prom or Twitter: @LHSAfterProm. To find out how to get involved, please send an email to: AfterPromLHS@gmail.com.
Athletic Boosters - The Lebanon Athletic Boosters is a tax-exempt, non-profit organization comprised of parents and local volunteers who promote and support high school athletics. The Boosters' raise funds through memberships, concession stands, a spirit shop, and other fund-raising activities. The Boosters' accomplishments over the years have been many and varied. We have been instrumental in the development of athletic complexes, renovation of athletic facilities, the purchase of uniforms and equipment, and the presentation of scholarships. Meetings are held on the second Monday of every month at 7:00 p.m. at the high school. All members are welcome and encouraged to attend. To join the Boosters, please click here.
Band Boosters - The Lebanon Band Parents Association is the booster organization for all band programs in Lebanon City Schools. This large parent organization promotes and supports the band program in a variety of ways. Please visit http://www.lhsbandroom.org/lbpa/ to find out more!
Choral Boosters - The Lebanon Choral Parents Organization is the booster organization for all choral programs in Lebanon City Schools. They volunteer in a large number of ways to promote and support the choral program.
Friends of Academics - FOA is an Academic Booster group of volunteers created at Lebanon High School in 1983 to support and promote academic excellence. Each year, FOA awards scholarship money to graduating seniors and awards academic L's, pins, and certificates annually to eligible students. Please contact Robert Reynolds for more information, reynolds.robert@lebanonschools.org.