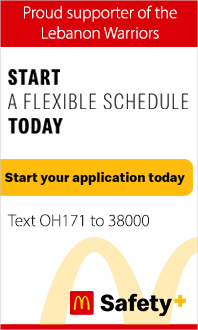 Please Click for Maintenance Form
Lebanon City School District is proud to honor our alumni who serve in the American Armed Forces through our Military Roll Call Wall, located in the Student entrance of the High School. If you know of a Lebanon student who has served, or is currently serving, please follow this link. Names are collected and verified throughout the year, and the wall is updated annually in December.
Lebanon High School, Grades 9-12
Use our SAFE SCHOOL HELPLINE to report a safety concern. You don't have to give your name. 513-934-1167.
News & Announcements
Blog Entry Synopsis Begin
A message from Isaac Seevers: Greetings Lebanon Warrior Community, First, I want to commend the Lebanon staff, students, parents, and community for prioritizing in-person student learning this past school year. You were truly a leader in the safe reopening
Blog Entry Synopsis End
Blog Entry Synopsis Begin
IMPORTANT INFORMATION FROM THE TRANSPORTATION DEPT: As we enter the spring season of 2021, we are already making plans for the 2021-2022 school year. We will again be requiring parents of all students, grades 1 - 12 to opt-in for transportation for the
Blog Entry Synopsis End