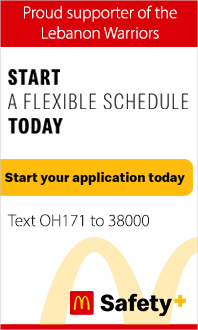 Lebanon High School JROTC
The Air Force Junior ROTC program at Lebanon High School is a 4 year program for high school students and compromises of a classroom based curriculum, in addition to extracurricular activities. Each class contains three components: Aerospace Science, Leadership Education and Wellness Education. There is NO military commitment for enrolling in AFJROTC. Please contact Ryan Eads eads.ryan@lebanonschools.org for more information,
Scholarship Opportunities
Flight Academy Scholarship- worth $26,000 for each scholarship given (almost $10 million dollars). This summer approx. 350 AFJROTC cadets are participating in this Chief of Staff of the Air Force program.

Cyber Academy Scholarship - The Cyber Academy is designed to generate interest in a vital (and valuable) skillset that is lacking in our country, and we want to both identify untapped aptitude and reward AFJROTC cadets who have taken the first steps to develop these skills. Students who have participated in the AFJROTC Cyber Patriot LDR and/or AP Computer Science will be the most competitive for selection, however, any passionate and capable cadet who has had limited or no access to these programs but meets the program eligibility requirements can apply. QUESTIONS: Please contact your headquarters Cyber Team at jrotc.cyber@au.af.edu or (334) 953- 0265/5149

J-100 Type 1 ROTC Scholarship - worth in some cases over $250,000.