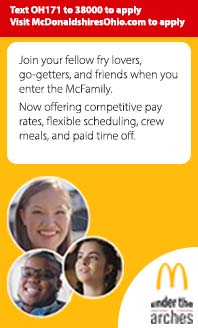 Side Menu Begins
Side Menu Ends, main content for this page begins
Covid-19 Information
Ohio Department of Health's Test and Stay Pilot Program
The Ohio Test & Stay Pilot program is an alternative to traditional quarantine and is being
conducted in conjunction with the Warren County Combined Health District and 10 school districts in Warren, Butler and Clinton counties. It provides an alternative to at-home quarantine for students who are direct contacts of a positive case. This pilot uses mask wearing and frequent testing to keep healthy students in school and keep sick students at home.
The goal of the program is to keep K-12 students in school, in-person five days a week. We believe that in-person learning is very important for children's academic and social-emotional development. When school districts follow layered prevention strategies including recommending vaccination for staff and eligible students, masks, and social distancing, it helps slow the spread of the virus and allows students to stay in school.
Asymptomatic direct contacts will be permitted to remain in school if they receive two negative rapid antigen tests and wear a face mask while inside school during their quarantine period. We are fortunate to be able to offer this program and in order to maintain efficacy we must follow the criteria below:
1. Parents must sign the consent agreement and agree to only use the tests provided in the pilot. No tests from outside providers or primary care physicians will be permitted.
2. Any student participating in the pilot must wear a multi-layer surgical style mask for the entire 7-day period. If you have a student who cannot wear a mask for any reason they will not be eligible for the pilot. Additionally, if your student has a mask exemption, they will not be eligible for the pilot unless the mask exemption is rescinded.
3. While in the pilot, "quarantined" students are not eligible to participate in athletics or extracurriculars as they are still considered under "quarantine."
4. Currently, the pilot only applies to students who are direct contacts due to exposure at school, NOT through a community exposure, school-sponsored activity exposure, or from home.
September 24, 2021 letter from Mr. Seevers introducing the Test & Stay program.
Press Release from Warren County superintendents announcing the Test & Stay program.
Test & Stay Procedures and Protocols
Pilot Program Eligibility
Students that meet the following criteria are eligible for the program:
1. Student meets the direct contact definition (Direct contacts for COVID-19 are defined as those individuals who are identified as being directly exposed to a person with COVID-19. In schools, direct contact is defined as an unmasked, unvaccinated individual within 3 feet of the person with COVID-19 for at least 15 minutes).
2. Student does not have COVID-19 symptoms

Test & Stay Pilot Program
A student identified as a direct contact has the option to participate in the K-12 Quarantine
Alternative Pilot Program. Families who opt into the pilot program will adhere to the following
requirements to allow their child or children to continue to attend school:
1. Anyone who tests positive or becomes symptomatic should stay home and follow
isolation protocols for at least 10 days from onset of symptoms OR from positive test,
whichever occurred first.
2. Students who opt into the pilot program and remain in school, must wear a mask indoors
for at least seven days after last exposure and must maintain a minimum of three feet
distance from others. The mask must be a multi-layer surgical style mask or equivalent
that fits snugly over the nose and mouth. Schools may assist in supplying multi-layer
surgical masks to students who opt in.
3. The student participating in the pilot will take a COVID-19 test following school testing
protocols for COVID-19 twice during the seven days following exposure.
a. The first test will be given immediately upon identification that the student is a
direct contact of a positive case after the consent form is completed by the parent
or guardian.
b. The second test will be conducted on days five to seven after the last day of
exposure.
4. Schools should provide a separate area to dine where physical distancing of six feet is
maintained for the pilot participant. This will allow the participant to safely unmask while
eating.
5. Each test must be negative for the student to remain in school.
6. The student must remain symptom-free to remain in school.
7. If the student tests positive, does not wear a mask, or becomes symptomatic during the
seven-day period, they will no longer be eligible for the program and will quarantine or
isolate at home based on current Warren County Combined Health District requirement.
If a student is exposed again to COVID-19 through direct contact with an individual with
COVID-19 after testing out of their participation in the initial pilot quarantine period, the
student will be required to restart the pilot quarantine protocols. If the student tests
positive during the pilot program they will begin the positive COVID-19 isolation period.
8. During the quarantine period, the student cannot participate in extracurricular activities.
9. When the student is not in school, they must quarantine at home.
10. Students and parents will monitor for symptoms of COVID-19 for 14 days after the date
of last exposure.


Covid-19 Updates to Athletics
Protocols and guidance from the LHS/LJHS Athletic Departments is available here. If you have further questions, please reach out to your student's coach or to the Athletic Department directly.