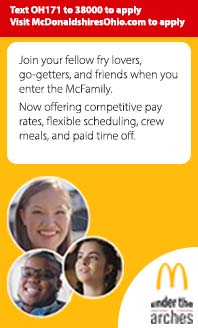 Side Menu Begins
Side Menu Ends, main content for this page begins
Student Registration Frequently Asked Questions
How do I register my student?
Students are registered through our online portal. See the New Students section for more information.
What if I don't have a computer?
You can use one of our computers. Call the Registration Office at (513) 934-5762 to make an appointment.
What if I can't print the additional forms?
You can pick up paper copies of additional forms from the box located outside the Central Office at 160 Miller Road.
Do I need an appointment?
Yes. After you have completed the online registration packet you can click here to make an appointment or call (513) 934-5762.
Can I bring a copy of the birth certificate?
No. We only accept original birth certificates. Ohio birth certificates can be obtained from the Warren County Health District.
What do I need for Proof of Residency?
Here is the list of specific documents we accept.
Do I need to bring a copy of the immunizations?
No. While we do need a copy of your immunizations records, they can be dropped off to your child's building nurse anytime. You can also have your doctor's office fax the records. All building fax numbers are listed online.
When will I find out my student's teacher?
Teacher letters are emailed in early August.
How do I find out which bus my student rides?
Bus routes will be released in August. You can find your student's transportation information here.
I have other transportation questions, who can I contact?
Check out the Transportation Handbook and the Transportation Homepage for more information.
Kindergarten Registration FAQ
How old do you have to be to go to Kindergarten in the 2022/23 school year?
Students must be 5 years of age on or before August 1, 2022.
Does Lebanon have full day Kindergarten?
No. We have only AM or PM Kindergarten.
Can I choose if I would like for my child to attend AM or PM Kindergarten?
No. This is based on your home address or the address of your daycare provider. This allows us to keep balanced class sizes.
How do I find out if my address is an AM or PM address?
Click here to see the list of AM and PM addresses.
How does the district respond to a request to change from AM or PM if my child does not ride the bus?
Requests can be made by emailing the Kindergarten Secretary at trumbly.amber@lebanonschools.org Please note that honoring requests are based on student enrollment and in the past have been rarely accommodated. A decision will be communicated at the beginning of the school year.
Do I need to have the Kindergarten Physical form filled out and completed when I register?
No. Physical forms can be turned in up until the second week of school.
Is Kindergarten first come first serve?
No. All students who are 5 on or before August 1, 2022 will be placed in a classroom.
If I live in Lebanon do I have to register in Lebanon?
Usually, yes. You have the option to enroll your student at a private school. There are also some districts that will accept residents from Lebanon, but approval for a spot isn't guaranteed.