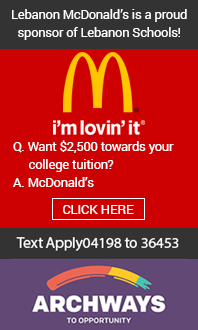 Board Members
Donna Davis Norris is currently serving her fifth term with the LCS Board of Education. She has served as Vice President, President, Warren County Career Center representative, Citizens Audit Advisory Committee member, Stadium Advisory Committee member, as well as Hall of Fame representative. She is also one of the founding members of the Lebanon Alumni Association, which provides scholarships to our graduating seniors and is currently serving as LAA Board Secretary.
Ms. Davis Norris is licensed by the Ohio Department of Education as a School Treasurer and Business Manager and holds a BA in Human Resource Management, as well as an AA in Applied Business from Miami University. Ms. Davis Norris has worked in education for over 29 years.
She and her husband, James, and three children are all proud graduates of the Lebanon City School District.
Ms. Davis's term expires December 31, 2019.
Esther Banta Larson is in her third term as a board member. She is a retired teacher of 37 years of which 32 were in the Lebanon City Schools district. She also managed their family pool maintenance business for 15 years. She was inducted into the Lebanon School's Hall of Fame as were both of her parents, Harold and Elizabeth Banta. She and her husband, James, and 2 children are all Lebanon graduates. Of their five grandchildren, 3 are Lebanon grads and the other 2 are attending now. They have 2 great-grandsons who are also in the Lebanon school district.
Mrs. Larson's term expires December 31, 2019
Chip Bonny is currently serving as the President of the Lebanon School Board. He has served as President and Vice President in past years as well. He is currently a Vice President-Commercial Lending Officer for LCNB National Bank. He was previously an Assistant Vice President and Banking Office Manager for Huntington Bank. He has also worked in Sales, Marketing and Management roles with large companies like Sprint, AT&T/SBC/Ameritech and Cincinnati Bell. He graduated from Yale University in 1985 with a BS in Applied Mathematics, and he graduated from the University of Kentucky in 1987 with an MBA, concentrating in Finance. He has also served on Church Boards in the past and has coached various youth sports in the Lebanon community for many years.

He has been married to Judy for almost thirty years. They have eight children and now five grandchildren. They are proud to have four LHS graduates to date (Jennifer in 2005, Bekah in 2008, Trey in 2010 and Mikala in 2014). The other 4 (Jaden, Josh, Nevaeh and Regan) are on track to graduate in 2019 and beyond.
Mr. Bonny's term expires December 31, 2019.
Mr. Donovan grew up in Lebanon and graduated from LHS in 1968. His father served
as band director from 1952 to 1976, as well as 16 years on the Board of Education. His mother taught elementary music from 1962 until 1988.
He received bachelor's degrees from Ohio State University and did his graduate studies
at Wright State University, His teaching career began at Switzerland County Schools in Indiana
and moved on to Lebanon City Schools, totaling a 37 year career. He taught band, choral and
general music. In 2012 he was inducted into the LCS Hall of Fame.
Since his retirement in 2011 he remains an active adjudicator with the OMEA, certified in
choral, orchestral, voice and piano. His leadership of the Lebanon Symphony Orchestra and
Chorus, which he founded in 1991, continues to this day.
Mr. Donovan lives in Lebanon with his wife Carola. He has two sons - Grahm and
Broderick Donovan, two step children - Jennifer and Austin Poe, and three grandchildren -
Adrien, Siena and Wrangler.
Mr. Donovan's term expires on December 31, 2021
Ryan Patterson, Jr. has served as both the President and Vice President of the LCS Board of Education. Ryan received a B.S. from The University of Dayton and an A.S. from Sinclair C.C. in the fields of Electronics & Robotics Engineering. He is currently working as the Director of Sales, Engineering & Operations for FANUC America (Robotics Division) responsible for the Central and Northeast USA Regions. He has been employed at FANUC America for 25 years and has worked under many technical, sales and management capacities. Ryan also serves on a variety of BOE and education advisory committees.
Mr. Patterson moved to Lebanon, OH in 1993 from his home town of Dayton, OH. Ryan and his wife Karen enjoy raising their two children, both attending Lebanon City Schools, and are both active with various volunteer duties within the schools and the community. Ryan is also a member of St. Francis De Sales Church, the Knights of Columbus, the Lebanon YMCA and a member/pilot at the Warren County Airport.
Mr. Patterson's term expires December 31, 2021.