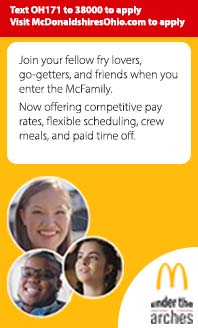 Side Menu Begins
Side Menu Ends, main content for this page begins
Annual District Profile
The information provided below is intended to supplement our state report card which contains demographic details and results of state tests. Test results are important, but they do not provide a full picture of what makes our district a great place to learn and work!
In spring 2019, we launched Warrior Stack, an athletic training program for students in grades 7-12 that focuses on agility, speed, mobility and flexibility in a student's sport. With the partnerships of LHS coaches, athletes are provided opportunities to embrace challenges, both physically and mentally and become more educated on their fitness, recovery and sportsmanship. Student athletes can participate in the Warrior Stack program seasonally or throughout the calendar year.
Beginning in the fall of 2018, we began piloting a Spanish immersion program in first grade. In a language immersion program, the target language is acquired through content instruction, not direct language instruction. Students in the program receive science and math instruction in Spanish. Lebanon is one of only 7 districts in the state of Ohio to have a language immersion program, and Bowman Primary is one of only 11 school buildings in Ohio to have a language immersion program. Learn more here.
2018-2019 also saw the launch of the Career Experience Class at Lebanon High School. This unique high school course places students in shadowing, internship, and co-op experiences as they research career paths. Learn more here.
We've implemented a broad range of mental health services for students and families. Learn more here.
Lebanon City Schools has partnered with the University of Cincinnati and the Warren County Career Center to provide students an automatic pathway into UC's Information Technology program.
U.S. News and World Report has rated Lebanon High School one of the best high schools in the nation.
Niche.com has ranked our district and buildings based on a number of factors. Rankings are available for the District, Bowman Primary, Donovan Elementary, Berry Intermediate, LJHS, and LHS.
Lebanon Junior High School is one of only five buildings in southwest Ohio to be recognized by High Schools That Work/Making Middle Grades Work (HSTW/MMGW). The staff was recognized for their diligence with the MMGW site review process.
Each year, the Area Progress Council of Warren County recognizes teachers through the Project Excellence Program.
2019 honorees were Faith Elleman and Wendy Ferguson. Mrs. Elleman teaches fourth grade at Donovan Elementary School and Mrs. Ferguson teaches social studies at LJHS.
2018 honorees were Anna Sheanshang and Karrie Whitsel. Mrs. Sheanshang teaches first grade at Bowman Primary School and Mrs. Whitsel teaches English language arts at LJHS.
2017 honorees were Amy Wnek and Coni Duning. Both 2017 honorees teach English language arts--Mrs Wnek at LJHS and Mrs. Duning at LHS.
2016 honorees were Becky Charlton and David Tarr. Mrs. Charlton teaches math at Berry Intermediate School and Mr. Tarr teaches English language arts and social studies at Donovan Elementary School.
2015 honorees were Heather Bickford and Kim Dillon. Mrs. Bickford teaches second grade at Bowman Primary School and Mrs. Dillon is an intervention specialist at Donovan Elementary School.
The Martha Holden Jennings Foundation recognized Claire Browne and Kat McAndrews as Team Teachers of the Year for 2017! Miss Browne and Mrs. McAndrews are sixth grade teachers at Berry Intermediate School.
Will Kuhn, the chairperson of LHS's performing arts department, was invited to speak at Loop, a 3-day summit for music makers, in Berlin. We're excited to have Mr. Kuhn represent our district internationally!
Our preschool at Bowman Primary has been recognized by the Ohio Department of Job and Family Services as a Step-Up-To-Quality 5-star site.
We've used the Northwest Evaluation Association's Measures of Academic Progress (MAP) reading and mathematics assessments with our students in grades K-8 for the past several years to support instructional planning. View a summary of progress by grade.
Many high school students participate in Advanced Placement (AP) courses at Lebanon High School. View the district's most recent 5-year AP test summary.
The ACT provides a College Readiness Letter each year about our graduating classes. View the letter from 2018, 2017, 2016
Our Lebanon High School Guidance staff prepares a report each year about our graduating class. 2019, 2018, 2017, 2016
Lebanon has been recognized by the NAMM Foundation as one of the best communities for music education. View a list of recent accomplishments.
Students at LHS can participate in a range of clubs and activities.
Students have multiple opportunities to participate in athletics at LJHS and LHS.
Our students' artistic abilities are on display annually at our spring art show.
We welcome parent and community volunteers in our buildings. Please contact a building principal to express an interest! LHS, LJHS, Berry Intermediate, Donovan Elementary, Bowman Primary
View Lebanon's most current 5-year financial forecast in your browser or in other formats.
We participate in the Federal Free and Reduced Price Breakfast and Lunch Program. District-wide, 21.38% of our students participate. 27.64% of Bowman Primary students participate. 27.75% of Donovan Elementary School students participate. 23.37% of Berry Intermediate School students participate. 18.57% of Lebanon Junior High School students participate. 14.62% of Lebanon High School students participate.
Our district covers 79 square miles. Our average daily student population for the 2017-2018 school year was 5,671. 13.19% or our students are identified with a disability, and 1.86% of our students are English language learners. 77.24% of our teaching staff have been in the classroom for at least 4 years. 52.99% of our staff have been in the classroom for at least 10 years. View this and additional demographic data about Lebanon City Schools (and any other Ohio school system) by downloading the District Profile Report from the Ohio Department of Education.